Friendswood Campus
501 S Friendswood Dr
Ste. 125
Friendswood, TX 77546
(832) 206-8609
friendswood@spanishschoolhouse.com
M-F: 7:00 am - 6:00 pm

Map

Offers and Discounts
ˇBienvenidos! Welcome to Spanish Schoolhouse in Friendswood, TX! We are excited to be joining the Friendswood community in the fall of 2023. We are conveniently located on Friendswood Dr. just south of Edgewood Dr. and minutes west of I-45. With over 20 years of experience and locations throughout Dallas/Fort Worth and Houston, we are proud to be the largest Spanish immersion preschool program in Texas. We invite you to learn about our unique curriculum, authentic culture, and nurturing environment. Give your child a gift that will benefit them for life - a second language!


Meet the Director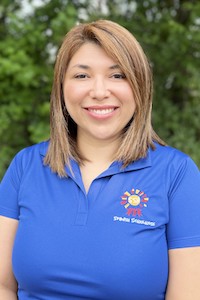 Margaret is proud to provide a safe, caring, and stimulating environment where students can flourish.


Events
Bilingual Story Time at the Friendswood Library! Time TBD
Bay Area Farmers Market (Baybrook Mall)- Special Guest Booth

Testimonials

"The staff and faculty are so invested in the kids! I've never seen anything like it! It is the best choice I could have made for my child."

"We absolutely LOVE Spanish Schoolhouse. Both the Preschool and Kindergarten programs are excellent. The teachers are patient, caring and so good with the children. The classes are small. This means that each child gets one on one assistance with reading and writing every day. There is plenty of time for play after lessons, and extracurricular programs are available too. My children can read, write and speak in Spanish. I am so impressed with this school."