Preschool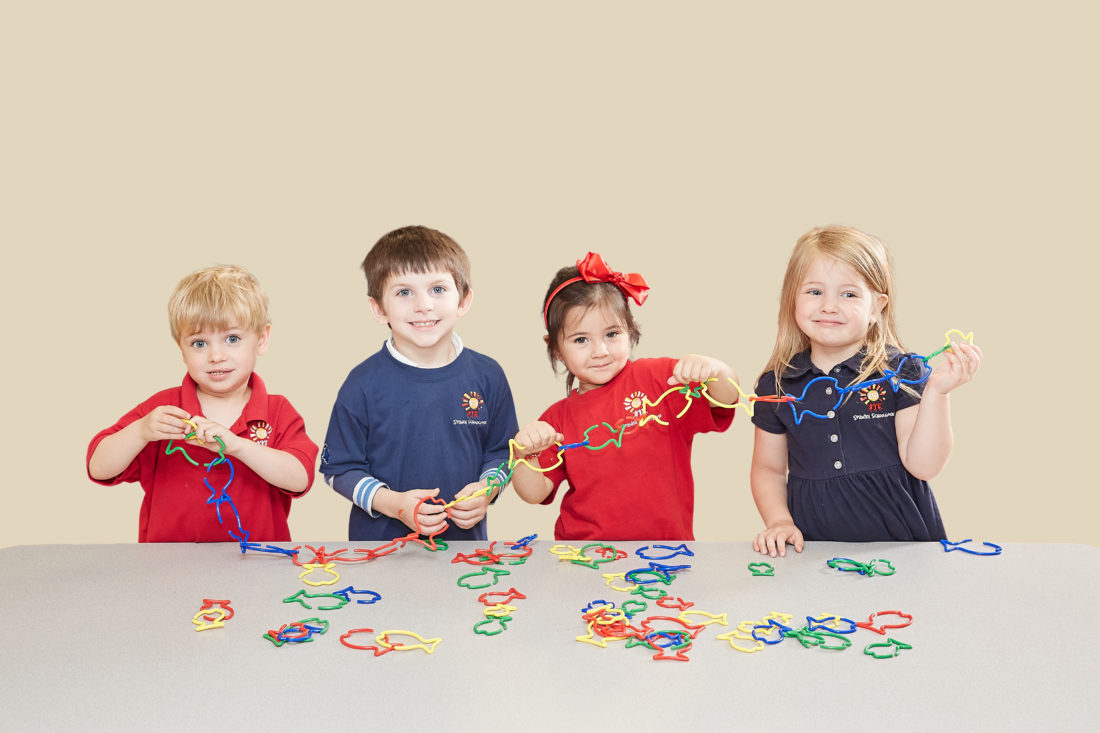 Program Overview
The early childhood years are the optimal window of language development for children. Spanish Schoolhouse maximizes this window by giving our students the opportunity to acquire the Spanish language naturally while they learn and discover the world around them in a warm and loving environment.
Our preschool curriculum, developed by a team of Texas-certified instructors, is based on the Texas Education Agency's preschool TEKS. It is rich with multi-sensory experiences that encourage a love of learning while building foundational skills for educational success.
Areas of Focus
In addition to our unique emphasis on the Spanish language, we provide a well-rounded early childhood curriculum that incorporates the following areas to ensure your child gets the most comprehensive preparation. Students will explore, discover, analyze, and experience each area through hands-on activities.
Literacy Skills

- Interactive reading, alphabet identification, print awareness, language exposure through poems, rhymes, and songs (Our primary focus is on Spanish literacy, but three and four-year-old classes also develop English literacy skills through small group work with an English teacher).

Math Skills

- Counting, sorting, grouping, creating patterns, adding, subtracting

Science Skills

- Measuring, weighing, experimenting and making predictions, animal life cycles, and more

Fine Motor Skills

- Cutting, gluing, painting, stringing items, using manipulatives, tracing, and writing; Handwriting Without Tears® program begins at age two for development of proper handwriting and communication skills.

Gross Motor Skills

- Balancing, jumping, running, climbing, throwing, catching, kicking

Social Skills, Manners, Self-Help, Self-Awareness

- Showing respect for teachers and peers, using good table manners, taking turns, sharing, and working cooperatively with classmates, gaining independence in hand-washing, opening lunches, dressing, and taking care of class materials

Spanish Language and Cultural Awareness

- In addition to teaching all areas in the Spanish language, the Hispanic culture permeates our curriculum. Music, dance, food, geography, and traditions are all incorporated. Our students learn to embrace and respect other cultures and celebrate diversity!
Ratios
Our low ratios allow teachers to build relationships with students and customize learning.
18-month class*: 5:1
Two-year-old class: 6:1
Three-year-old class: 8:1
Four-year-old class: 10:1
* (offered at select locations)
Preschool FAQs
In a Spanish immersion environment, children are surrounded by the Spanish language during the school day, enabling them to learn the language through the natural interactions of school activities and social connections. In an immersion environment, conversation is key!!
This is a common question! Our program is designed for English-speaking children to learn Spanish. However, we welcome and encourage children who already use the Spanish language (or any language!) in their homes to be a part of our school!
Our teachers are native-Spanish speakers from around the world who also speak English. We start the school year speaking both English and Spanish so the children understand class rules and expectations and get to know their teachers. After this period, a smooth transition to Spanish-only is easy and fun for them.
To help children feel comfortable and confident, our teachers "act out" what they are saying and use visual materials as cues. The kids love this and love to join in. In the transition stage, if a teacher doubts that a child understands something, she will briefly explain in English and then continue in Spanish, to be sure that no child is "lost" or "confused." You will be surprised at how quickly they understand! We are here to encourage the love of the Spanish language and will ensure that our students feel comfortable and secure in our school environment.
Our proprietary curriculum was developed by a team of Texas-certified educators and uses a hands-on approach to learning. Lesson plans focus on developing literacy skills, pre-math and science skills, gross and fine motor coordination, creativity and expression, socialization skills, and more! We also incorporate the Handwriting Without Tears® program into our curriculum to further develop fine motor skills and proper handwriting techniques.
Weekly and monthly themes help children explore the world around them - all in Spanish! Cultural concepts and activities are woven into the curriculum, and traditional Latin music and dance play an important role in the learning process.
Each month you will receive a calendar with themes and key vocabulary. We encourage you to ask your child (in English or Spanish!) for more information about the themes. They will often be happy to teach their parents, especially the songs they have been singing! Links to the songs can be found in our monthly newsletter.
Reading English books on related topics is another way to share in their learning. Many public libraries also have Spanish audiobooks for you and your child to learn together. Encourage your child to use his/her new language when eating out, at the store, or when making new friends who are Spanish speakers. Check out our Resources page for more ideas!
All children develop and learn at different rates. In general, the pattern is similar to how the child learned his first language. During the first year, the child builds a base of vocabulary, learns the patterns of the language, and understands 80-100% of the spoken language. He may begin using single words and short phrases, and will likely sing the songs he has learned in school.
During the second year, children add vocabulary and begin to use the language naturally, responding and participating in class in Spanish. After two to three years of consistent exposure, they typically begin to think in Spanish without translation, communicate their thoughts, and carry on conversations in Spanish with a near-native accent. The more regularly children are exposed to Spanish (in school or out), the quicker you can expect them to progress!
Yes! As much as we believe in the importance of Spanish language acquisition, we realize that many of our students' elementary schools will be English-based. To ensure their success, we have built into the preschool curriculum a 30-minute English class for three and four-year-olds, in order to experience and learn English letters and sounds, develop pre-reading skills and enjoy the many wonderful books and stories the English language has to offer.
Surveys of our students who have graduated and are now in elementary schools show that they are both academically and socially prepared for kindergarten or first grade. If your child is able to attend a dual-language elementary school, he or she will be prepared in both languages!
We encourage our families to keep the language learning alive! Spanish Schoolhouse offers a bilingual Kindergarten program, as well as After School Spanish classes and Summer Camps. Dual-language programs in public schools are gaining in popularity, and many of our families take advantage of these programs.
Other opportunities for learning include Spanish story times and activities at local libraries, Spanish television programming, and a wide variety of websites and apps. See our Resources page for more ideas.
All locations accept children at ages 2-4, however, some locations also offer an 18-month class. Please select a location to view available classes and/or contact the school directly.
From the top right "Locations" button, choose your preferred school to view tuition and enrollment information. You will need to create a family profile prior to enrolling. Each year, we hold open registration in early February for the upcoming school year. Many classes fill very quickly! Enrollment during the school year is possible on a space-available basis.