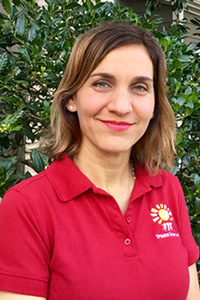 Melissa Ortiz
Director, The Woodlands Campus

Melissa is originally from Mexico City. She grew up in a bilingual household where she had the advantage of hearing both Spanish and English and learning about the cultures of Mexico and the U.S. This gave her an appreciation of bilingualism and instilled cultural awareness at a young age. 

Melissa earned a bachelor's degree in architecture from Iberoamerican University and worked as a professional architect for 10 years. Desiring a change, she obtained her teacher's certification and began a career in education. She has taught children from preschool through middle school in Mexico and the U.S. A love for children and a passion for education were ignited early in her teaching career and continue to guide her.

Melissa is excited to lead Spanish Schoolhouse's team of dedicated and caring teachers in The Woodlands. She loves sharing the advantages of bilingualism and biculturalism with each of her students and building collaborative relationships with their families.