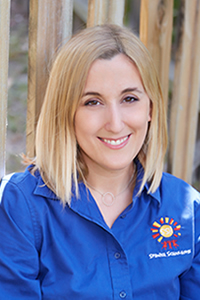 Micaela Perdomo
Director, The Woodlands Campus

From as early as Micaela can remember, she's wanted to be a teacher! She was born in Montevideo, Uruguay, and earned bachelor's degrees in biology and education and a master's degree in education, focusing on curriculum and instruction. Her love of learning continues, as she is currently pursuing a Board Certified Behavior Analyst degree.

Micaela enjoys teaching young children in a didactic and creative way that supports their emotional expression and allows them to develop socially. Her journey at Spanish Schoolhouse began as a teaching intern in the kindergarten classroom while working on post-graduate studies. From the very first day, she felt a deep connection with the school, its teaching philosophy, and the Spanish immersion concept.

Michaela is passionate about her profession and loves watching the children grow daily at their own pace. Her personal teaching philosophy is that the students always come first. She focuses on the students as individual learners and she works hard to meet all their needs. She knows students are unique and loves to celebrate those differences.

Micaela believes that bilingualism is an asset and that speaking multiple languages is a strength that can be leveraged for success. She is inspired by the vast amount of research that shows children who are bilingual have advantages, not only in their literacy development but in the development of problem-solving skills and other areas of cognition. She's grateful for the opportunity to be part of the SSH family!