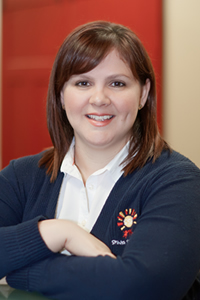 Liliana Cortez
Director, Round Rock Campus

Liliana is originally from El Paso, Texas. She had the good fortune of growing up learning English and Spanish simultaneously, so she knows first-hand the opportunities that bilingualism can provide. Liliana graduated from Texas A&M International University with a degree in communications. She worked in public relations, marketing, and human resources. While pursuing a speech pathology certification, she worked with children with speech disorders and discovered the rewards of working with children.

Liliana has a passion for language, communication, and child development. Her experience gives her a unique understanding of the cognitive benefits of being bilingual. She knows language immersion helps wire children's brains differently, enhancing processing skills and providing academic and social advantages.

As a Spanish Schoolhouse teacher and now as Director, Lilliana is thrilled to share the Spanish language and help broaden horizons for her students' young minds.