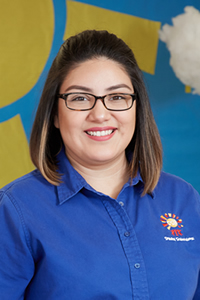 Tania Garcia
Director, Arlington Campus

Tania is originally from Mexico City. She has enjoyed working with children since she was young and is currently working on a bachelor's degree in early childhood education. Tania started her Spanish Schoolhouse career as a teacher before becoming the office manager, and now Director.

Tania believes that the preschool years are a crucial developmental period which shapes a child's character, problem-solving skill, and personality. She loves having the opportunity to help children learn and practice the skills needed for a successful educational start, while sharing her culture and language. Tania feels that the most rewarding job anyone could have is to provide a loving and safe environment where children can thrive emotionally, socially, and academically! She's proud to be impacting students' lives with her team at SSH Arlington!