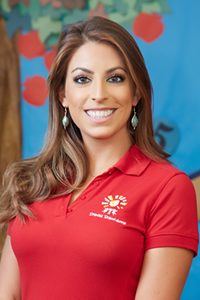 Gaby Martinez del Rio
Owner/Director, Castle Hills/Carrollton Campus

Gaby was born in Mexico City, where she learned Spanish, English, and French in a trilingual school. She was inspired by her mother's lifelong career in education and she, too, developed a passion for teaching. After moving to the U.S., Gaby earned a bachelor's degree from Texas Woman's University in bilingual education.

While in college, Gaby began teaching at Spanish Schoolhouse Coppell. In partnership with her mother, she opened the first SSH franchise in 2008. After 10 years of teaching, she took on the leadership of the school as Director. Gaby enjoys teaching so much that she still teaches the After-School classes and serves as the After School trainer for all SSH schools.

Gaby believes that the most important gift she can give each student is a sense of love and acceptance. When students feel this love, their potential becomes limitless! She is very proud of her teachers who help fulfill this mission and create a feeling of family in her school. Gaby continues to study and learn about early childhood education and hopes to open additional schools in the future.

Gaby Ramirez
Owner/Director, Castle Hills/Carrollton Campus

Gaby was born and raised in Mexico City, where she attended a bilingual school. She holds a bachelor's degree in early childhood education and has been a teacher since the age of 21. Teaching has been Gaby's passion as long as she can remember. After moving to Texas, she began working at Spanish Schoolhouse as an After School teacher. She then became a Preschool teacher, and finally became Director at SSH Coppell.

With a firm belief in the mission of Spanish Schoolhouse, and wanting to build a legacy for her children, Gaby opened the first franchise location in 2007 in Carrollton/Castle Hills!

Gaby and her daughter, as Directors of this school, feel honored that they've been able to touch so many young lives. Gaby is very proud of what Spanish Schoolhouse has accomplished and continues to accomplish. She believes that this is only the beginning and she feels blessed to be part of this amazing family.