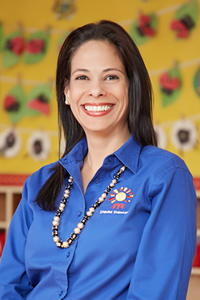 Jennifer Granadillo
Director, Coppell Campus

Jennifer is originally and proudly from Caracas, Venezuela. She holds degrees in both Education and Human Resources, making her an ideal preschool leader! In addition to her HR experience, Jennifer has 10 years of experience in curriculum development and taught five years at the elementary level.

Jennifer first experienced Spanish Schoolhouse as a mom before becoming a teacher, Assistant Director, and Director. As an educator, Jennifer values the opportunity to help open new doors of discovery for her young students and help them reach their full potential. She creates a fun environment and a sense of belonging for each student at the school with her warm and open style. Jennifer is proud to work with an amazing team of teachers and to be able to share her language and culture.