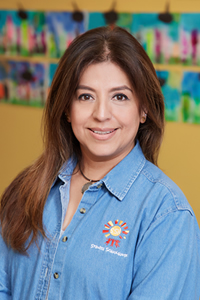 Patty Nuņez
Owner/Director, Flower Mound Campus

Patty is a native Spanish speaker from Mexico City. She holds a B.S. in Chemical Engineering from Universidad Iberoamericana. After more than 15 years of international business experience, she relocated to the DFW area, and joined Spanish Schoolhouse as a teacher. Patty fell in love with the school and decided to pursue her lifelong dream of becoming an entrepreneur in the educational field. She has been the School Director of Spanish Schoolhouse Flower Mound, and co-owner with Adriana Tetelman, since 2010.

Patty loves working with young children and cultivating an appreciation for bilingualism from an early age. She's proud that she can combine her passion for teaching with the privilege of sharing her language and culture. It's a fulfilling career as she knows her students are gaining cognitive and academic advantages that will last a lifetime.