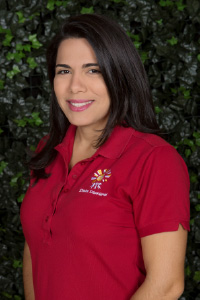 Claudia Aristimuņo
Director, Frisco Campus

Claudia is originally from Lecheria Venezuela. She got an early taste of language immersion when she came to the U.S. as an exchange student in high school. Before moving permanently to the U.S. in 2010, Claudia earned a bachelor's degree in systems engineering. She continued her education at the University of Dallas, completing a master's degree in business administration while working in the Admissions Office. Combining her business knowledge with her creativity, Claudia then started a small business selling personalized accessories.

Claudia discovered Spanish Schoolhouse when she was looking for a preschool for her children and was immediately captivated by the language immersion opportunity. She loved the welcoming, family-like atmosphere and was excited to be a part of it. Claudia began teaching in 2016 and has taught at the 3-year-old and 4-year-old levels. In 2021, she became the director of SSH Frisco. She is thrilled to lead the team of amazing and creative teachers and to help them be their best every day. She looks forward to continuing to share the gift of bilingualism with more children throughout the coming years.