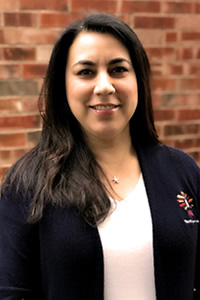 Victoria Restrepo
Director, Frisco Campus

Victoria was born in Los Angeles but had the opportunity to spend several years growing up in Costa Rica, where she has family roots. This gave her the advantage of learning both languages as a young child, and was an experience she cherishes to this day. Victoria holds a bachelor's degree in Interdisciplinary Studies from BYU Idaho as well as an Early Childhood Education certification and Montessori Teacher certification. She worked as a Kindergarten teacher in Florida before moving to Texas where she found and fell in love with Spanish Schoolhouse in 2004.  

At SSH, Victoria has taught all age levels from 2 yrs - Kindergarten, served as teacher coordinator, and is part of the curriculum development team. She loves sharing her language and culture with her co-workers and students. Victoria is a huge proponent of early childhood education, remembering the impact it had on her own life as a bilingual learner. She is excited to be leading the Frisco team of teachers and feels inspired by the challenge of helping each student feel loved and valued as part of the Spanish Schoolhouse family.