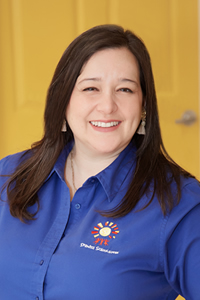 Gaby Mata-González
Director, Katy Campus

Gaby was born in Austin, Texas, and raised in Venezuela, giving her the advantage of two languages from an early age! Gaby is passionate about learning and holds a bachelor's degree in Law as well as Early Childhood Education. She also earned a certification in "Teaching Learning Strategies" in Spain, and hopes to pursue a Masters and a PhD in the future. Gaby has over 13 years of experience teaching Pre-K and Kindergarten in both public and private schools.

Gaby was a part of Spanish Schoolhouse first as a parent, then as a teacher before becoming Director. She is proud to lead her team of loving and caring educators who come to work every day with smiles on their faces. Gaby values the opportunity to teach not only the Spanish language but the Hispanic culture, sharing the joy, music, and traditions she grew up with.