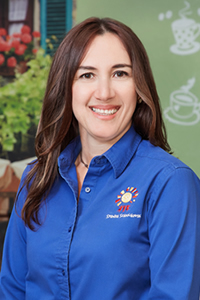 Marie Gómez
Director, Keller Campus

Marie is originally from Venezuela. She holds a bachelor's degree in computer science and worked in telecommunications before moving to the U.S. in 1999. Marie began her career at Spanish Schoolhouse as a teacher at the Southlake school. Eager to combine her skills in education and management, she moved to the Keller school in 2011 to become director.

Marie is always seeking to learn more and improve the educational experience for children. She is currently pursuing a degree in child development. Marie is committed to encouraging bilingualism among children because of the cognitive advantages it gives them, and the many doors it opens for their future. She loves her role in Spanish Schoolhouse and being able to share her language and culture with her students.