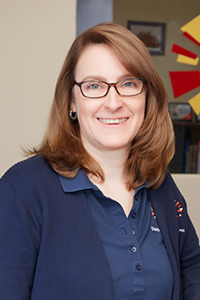 Maria del Rocio Diaz
Director, McKinney Campus

Maria was born in Bogota, Colombia and holds a degree in graphic design from Centro de Diseņo Taller Cinco. She has lived in the United States for over 17 years and began her career at Spanish Schoolhouse as a teacher for 7 years. For the last 5 years she has been the school director in McKinney.

Maria has always had a special connection with children and feels that working in the Spanish Schoolhouse environment has been the perfect experience. Rocio, as the children call her, believes the most effective method of teaching involves getting the children interested in exploration and discovery of new things which then creates a natural desire for future learning and an attitude for life. Because of the changing world we live in, Maria feels knowing the Spanish language and understanding the Hispanic culture is a life-long tool to develop more skills throughout a person's life. Her goal is to create a comfortable and warm environment where students can play, learn and be happy.

Ann Mena
Owner, McKinney Campus

Ann was born and raised in New Mexico and holds a master's degree from Stanford University with a minor in Spanish. Ann originally started the McKinney Spanish Schoolhouse because of her lifelong love of learning, working with children and making a difference in the lives of others. Her children graduated from the Spanish Schoolhouse program, and it was through her experience as a parent that she learned about and grew to love Spanish Schoolhouse. With a passion for education, and experience raising bilingual children, she is thrilled to bring the program to local families as an owner of the McKinney campus.

Ann has seen firsthand that the SSH Spanish immersion preschool and kindergarten program provides for a traditional preschool education while also immersing students in both the Spanish language and the Hispanic culture. Her goal is to do everything possible to prepare the students to enter their next stage of learning. When they graduate from Spanish Schoolhouse, they will have increased confidence in themselves, knowledge of a second language, and an experience that they will always look back on with fond memories.