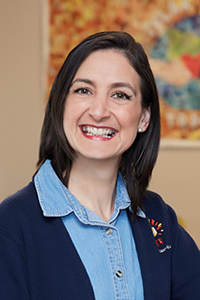 Lucía Torre Hutt
Director, North Dallas Campus

Lucía is originally from Mexico City. She holds a bachelor's degree in business administration and has post-graduate training in early childhood education. Lucía owned and worked in her own preschool in Mexico City for several years. When she moved to the U.S., she supervised after school spanish program in several school districts and taught Spanish at both the elementary and middle school levels.

Lucía joined Spanish Schoolhouse in 2014 and became the director of the North Dallas school. She strongly believes that what young children learn in their early years builds the foundation for lifelong learning and she is grateful to play a role in this important developmental stage.

Lucía takes pride in creating a safe and happy environment for everyone who comes through the door at Spanish Schoolhouse, including students, parents, staff, and visitors. She knows that in this atmosphere, strong relationships blossom and learning flourishes!