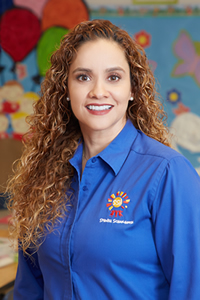 Rebeca Zambrano
Owner/Director, Rockwall Campus

Rebeca's Mexican heritage and colorful roots have molded her personality and love for children! She holds a degree in education and an associate's degree special education and learning disabilities. She also earned a certificate in child psychology and a certification in neurolinguistic programming. While living in Juarez, Mexico, Rebeca worked as a teacher for children with special needs. Upon moving to Dallas, she began her career in bilingual education and has never looked back.

With over 25 years' experience in child care, Rebeca is proud to be the Director and owner of Spanish Schoolhouse Rockwall, together with her daughter Alexandra Cabada Zambrano. She enjoys the SSH culture and the warm relationships with all of the families who have entrusted their children to her care. Her favorite part of the daily school routine is welcoming all her students with hugs and high-fives! It fills her with pride to see the smiles on their faces as they develop confidence and a love of learning.