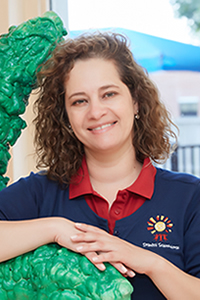 Adriana Castaņo
Director, Sugar Land Campus

Adriana Castaņo is originally from Colombia. She earned a bachelor's degree in fashion design and has a deep appreciation for all things creative. After moving to the U.S. in 2001, she began teaching children's art classes and discovered her love for teaching. She also taught preschool for several years before joining the Spanish Schoolhouse team in 2013 as the director of the Katy school. Three years later she helped open the new Sugar Land school and is proud to be the director!

Adriana is passionate about working with children. She values the opportunity to watch them grow socially and academically, and loves using her creativity to enhance their learning. She feels that each day with her students is as much a learning experience for her as it is for them! Adriana feels fortunate to be a part of the Spanish Schoolhouse family where she can help create a warm and loving learning environment for all her students.