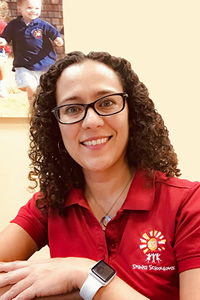 Brenda Franco
Director, Creekside/Tomball Campus

Brenda is a native of Mexico City, Mexico. She holds a bachelor's degree in International Relations and worked in advertising and marketing for more than a decade before moving to Texas. Brenda's experience in the education field began as an elementary-level substitute teacher. When she enrolled her daughter in Spanish Schoolhouse, she quickly fell in love with its mission and became the Office Manager for the Creekside school when it opened in 2018. She is now proud to serve as Director of this positive and caring learning environment.

Brenda is excited to be able to offer her students the developmental and social advantages of a second language during early childhood. She knows that a preschool education rich with hands-on experiences sets the foundation for lifelong success and a love of learning. She believes that as early educators, we are key to helping children feel secure and confident as they develop emotional, social, and academic skills in an encouraging atmosphere.