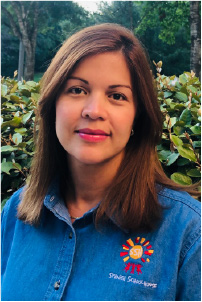 Mary Tirado
Director, Creekside/Tomball Campus

Mary is originally from Maracaibo, Venezuela. She earned a degree in Business Administration and worked in her family's business as a Human Resources manager for 10 years. She also pursued her passion for dance as a flamenco dance instructor, teaching young children to appreciate the music and movement of this vibrant dance form.

When Mary relocated to Texas in 2015, she quickly found her home at Spanish Schoolhouse. She gained valuable experience teaching in the two, three, and four-year-old classrooms, as well as serving as the summer camp administrator, before assuming the director role. Mary loves being a part of the daily growth and development of her students. She enjoys collaborating with parents to help each child succeed and reach their potential.

Mary is excited to lead Spanish Schoolhouse Creekside's team of dedicated and caring teachers. She loves sharing the advantages of bilingualism and biculturalism with each of her students!